Dorian Sarı is a young artist born in İzmir. Sarı, who received his proficiency in art from Institut Kunst Basel, has exhibited his works mainly in Switzerland since 2015. Sarı, who received many awards such as Manor Kunstpreis, Swiss Art Awards, and Basel Kunstverein Prize, participated in group exhibitions in France, Germany, Italy, Spain, and Brazil.
We came together with Dorian to talk about the exhibition A Finger for an Eye, where we can see his works for the first time in Istanbul. Under the curatorship of Alper Turan, the exhibition, which can be seen at Poşe until 26 March as part of Protocinema Emerging Curator Series 2021, includes works by Baha Görkem Yalım, Cansu Yıldıran and Istanbul Queer Art Collective (Tuna Erdem & Seda Ergul). We talked at length about the works Dorian Sarı presented in this exhibition bonded with another ongoing exhibition at the Red Cross Museum in Switzerland, and his solo exhibition held in Kunstmuseum Basel last month. Our conversation turned into an interview where we examined the artist's work over the last five years.
Reintroducing some objects in different ways seems to be one of the important choices shaping your art practice. One of these objects is the mattress. In one of your works, you place another amorphous cloth puppet sitting on the head and chest of a cloth puppet lying down with an erect penis on a mattress with a predominantly orange color and geometric pattern. You have another work in which you lean two mattresses of the same color and pattern, and with their surfaces burnt, against the wall side by side like a diptych. The soft sculpture is a genre that many artists have reproduced and adapted to their own artistic understanding since Claes Oldenburg. Apart from the works I mentioned, there are many soft sculptures you produce. I think you used mattress covers a lot while creating these sculptures. What is the reason for this choice?
The works you mentioned are the first sculptures I made seven or eight years ago. I can explain why I use beds and mattresses as follows: I had been in Tel Aviv before I came to Switzerland, and after Tel Aviv, I suddenly found myself in Geneva. I had no idea of ​​coming to Switzerland. It was the time when I suddenly found myself in Geneva and when I was also at the bottom of being moneyless. I was so excited, I had a hunger to really be an artist, that is to learn art. I always wanted to touch material, to deal with sculpture and material, and I had no money. No money to pay for a place to stay, I had nothing, and I realized that there were always beds in the streets. I couldn't figure out, they were all clean. Then I said to myself I know how to sew. The mattress also has a sponge inside and I want to work with three-dimensional, bulky things. Because until then I was always creating and envisioning the things I wanted to work on, to work with, in my mind: How can I do those three-dimensional things? I knew sewing as a technique… I took those beds; they have metal and sponge inside, and also fabric on the surface. What can I do with these beds?
First, of course I started making human figures, the orange one you mentioned, the woman and the erect penis, it was the first sculpture I made. At first, when I was doing it – yes, there is a difficulty due to lack of material, but on the other hand, I was always asking the question of why I am doing it. In fact, when I started thinking about the symbols lying there, it seemed like it fitted in my mind. Because when you think of a bed and a mattress, people sleep on it and it's where you dream, have nightmares, have sex, lie down when you get sick, rest, and even a lot of people die. These are used mattresses, especially since I find things on the street, and all of them have a lot of stories. Who knows what happened on them, what thoughts passed over them. It's about chasing a story. And I liked creating new figures while chasing this story.
When I was doing these things at the time, I was inspired by my own story; from my own story and my own observations. There was always an uptight, angry disposition in me; especially against men. Looking back now, I was actually an LGBTI+ activist in Izmir in high school. I was very scared of men. It's even in the first story of my book, which will soon be released. So to say, I was very scared of heterosexual men, I saw them as macho people who only start fighting and beat others. As a queer person, I always spent time with women and girls, as in the typical story. I had a point of view like females are angels and males are devils back then. Actually, in that story, I thought of an erect male lying on, and I put another figure which is headless on it. Because that man has hands, legs, and a head, but that woman only has big breasts. She has no head, only a body and her hands are also cut off. And that woman is sitting on that man on the bed. In that first work, maybe that erect man should have been on the woman who is almost without any limbs, I started with the idea of ​​changing their places.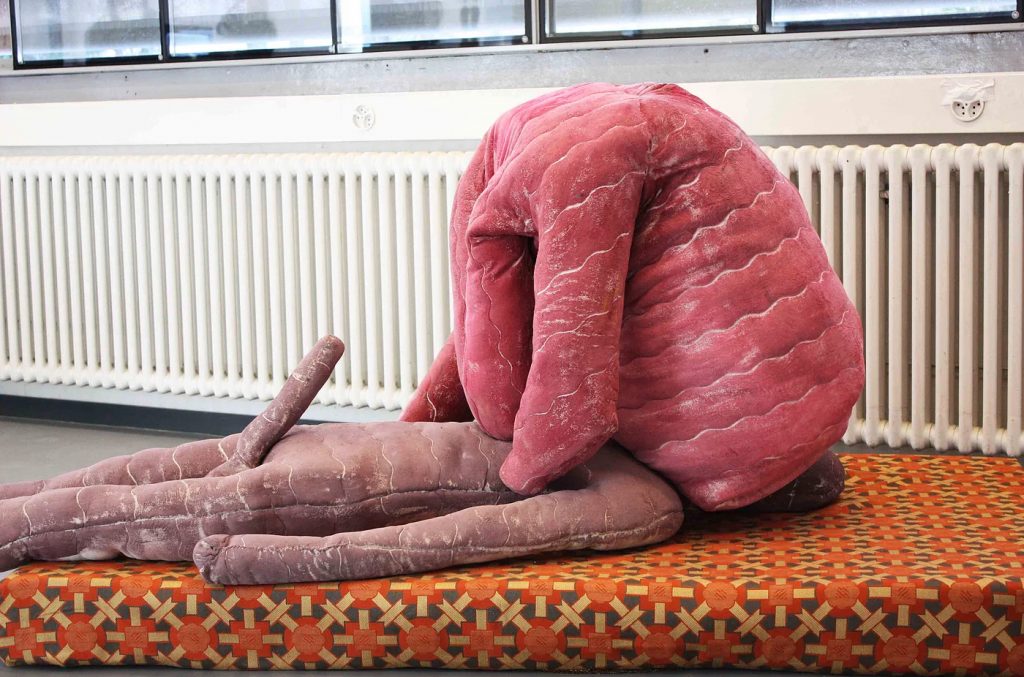 In addition, you have another work where you place a patterned mattress with the shades of green color vertically on the gallery floor and make slits with the knot you tied in the middle of the mattress.
The name of the work is Luggage. One day something happened, I was somehow fired from the workshop. I emptied the bed to do something else and within an hour I had to leave the workshop. At that moment, I stuffed all the stuff, everything on the table, into that empty bed and sewed the edges together. After sewing, the top of the bed was closed, you know the handles of the bed on the sides, I cut them and made a knot in the middle. I said: this is my suitcase and I left the workshop. It was a bit like a self-portrait for me. I had to leave there at that moment. Up to that time, the country changes I had made were always like losing my temper and saying 'okay, now I am leaving', so it was a symbolic moment, that's, it fitted perfectly. It is one of my most precious works. I have some works that I favored a little bit more, and that work comes at the beginning.
It seems that bed covers and mattresses are the objects that you constantly prefer to transform.
Yes, I really liked using mattresses, beds and transforming them back then. Because the technique I know started to develop at once, but I got to such a point that I stopped using beds and mattresses. I stopped working with beds and soft objects after making tanks in 2016. In the process of making the tank family, I said it must be the last one. Because in Switzerland, it had reached the point that Dorian means a mattress artist, and at that point, I said, the bells are ringing, I have to stop. It had reached such a point, people started to send me pictures and addresses saying to me, 'Oh, there is a bed in this corner'.
I do not think that I am such a person who would like to repeat the issues that they care about deliberately, and I would also like to change the material. However, they have to be like this at certain time periods. I think everything should not change at the same time, because, after all, I feel that I have to create consistency. But it is not a necessity coming from inside, it is a kind of pressure caused by society and the art world. I always want to pay attention to this; let's meet in the middle of the bridge. I will not do what you will, and you also don't have to come knocking on my door, let's meet in the middle. Because I do art not only for myself, but also to share and communicate with people, and even to ask the questions in my mind together with them. It is necessary to compose a common language, and that language can only be formed by speaking in the middle of the bridge. I do not want something to be my satellite or to be the satellite of something myself. I would like to dance together. After all, you have to get to a certain point to be artistically completely free and to be an artist who does what they want. Also, until you get to that certain point, the curators, gallery owners or lecturers, mentors who are interested in you have certain expectations. Against these expectations I have always stood at a point like 'please do not force it, let's meet in the middle'. I completed my master's degree two and a half years ago. I started to deal in art very late. There was also a certain amount of pressure during school hours. This pressure was very severe, especially in Geneva times, that is, the expectation of stability.
Before starting your art practice, you worked at Dvir, an established gallery in Tel Aviv that is well known in the international art community. As a former gallery worker, I wonder how the gallery experience contributed to art production.
Before that, I must briefly explain how I found myself in Tel Aviv. I studied Political Science and Greek Literature in Paris. Politics and art, these two have always been in my life. Both were things that I fell in love with and that I've always been curious about. But I had never studied art and the orientation in high school, somehow, led me to politics and foreign languages. When I studied politics, I realized I could not be in it. I learned the rules and whatever of the political system I was dealing with, fighting against, and I also learned diplomacy, but I would not be in that system. At that moment, I started by saying that either I'm getting down into the art world now, or it ends here. Actually, I did not know what to do in the name of art. I started taking pictures by myself. Sorbonne devastated me. It was so hard, I finally completed it, but it destroyed me psychologically. I did not want to go to school again from scratch. I had the naive idea that I could learn art by working in galleries and I went to FIAC[1] in Paris. I was a person who took pictures in my own way and I had a card with 'photographer' written on it. I went to FIAC, before that, I searched all the galleries on the internet to see what they were doing, but I didn't know anything about the process. I thought about which country I want to go to; I was very curious about Israel. Because in a political sense I was very curious about the Palestinian-Israeli conflict. I said I would go there. Dvir was also at FIAC. For three days I went there and badgered them to death. I said please take me, I will do what you want as long as you take me. One of the owners of Dvir said, "I understood you." You know, in Turkey, they say, "I will take care of it,", that's exactly what happened. When I went there on the second day, he said, "I told you that I understood, why do you not want to understand, you will come, it's not a problem". On the third day I went, he said, "okay, consider it done!". And two months later I found myself in Tel Aviv.
The first week I was there, Douglas Gordon had a retrospective at the Tel Aviv Museum. He was an artist represented by Dvir Gallery and I became Douglas Gordon's assistant from the first week. At the Tel Aviv Museum, I did everything he told me: paint here, do this, do that. This is how I met Ariel Schlesinger; I met Latifa Echakhch; I helped them with their work. Later I realized what an amazing gallery Dvir is. It took me a month or so to realize that Douglas Gordon is such a big name in the world. I was very naive at that point. They also told me they gave that chance because they saw that naivety. As I traveled the world, as time passed, as I explored the galleries and understood how galleries work, I felt like the lottery had hit me. I had many meaningful experiences, and they were so valuable that they truly appreciated me, and that they did not sabotage my naivety in any way.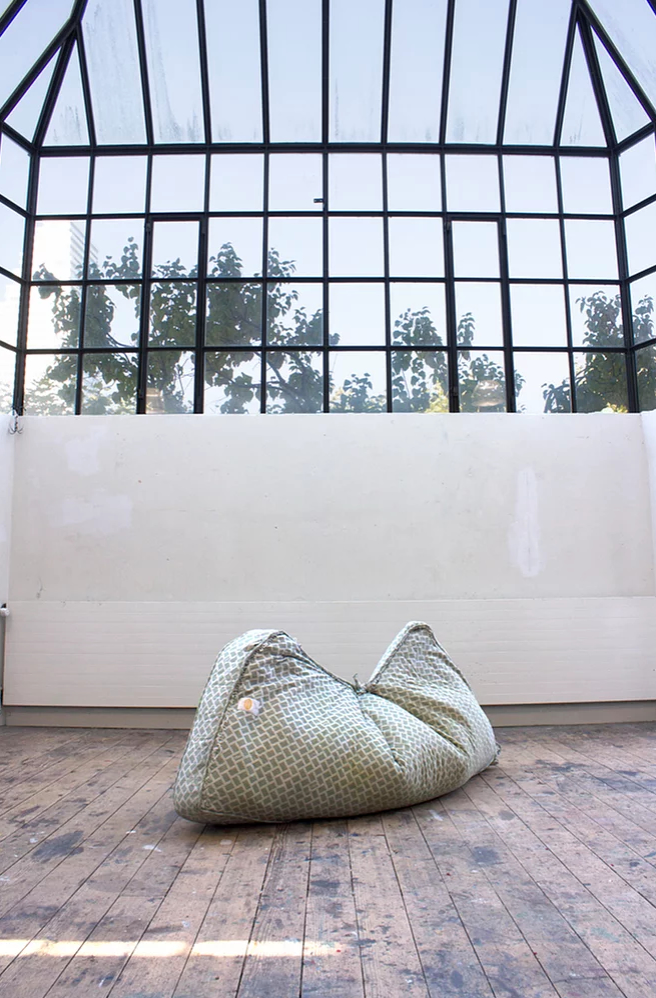 How did you decide to quit working at Gallery Dvir and go to Geneva?
We were very happy with each other and one day they asked me "do you want to become a gallery assistant or an artist?". I said, 'I want to be an artist.' "Do you want to show us your work?" they said, "If you want, let's make an appointment with Dvir." I said okay. We met with Dvir and I showed the bad photos and videos I had taken up to that time. Dvir told me, "You have to go to school. What are you doing here,". I said, "I do not want to go to school, I'm so tired of university." He said,"No, it is the twenty-first century and you have to go to school, you have to form your artist family and get criticism." Then I said where it could be, and I didn't know anything because I never thought of art school. Besides, the questions "Do you want to stay here, do you think about going abroad?" and such like. Honestly, I was so happy there and my intention was to continue working there and study in Jerusalem. My luck was my boyfriend back then. I asked my boyfriend "should I stay here", and I also didn't not know where to go. My boyfriend said, 'you'd better go'. At that point, our relationship was broken, everything was also broken. I said, "Okay, you want me to go, so I'm going then." I also asked them where I should go. There was Ami Barak, who was the curator of the Douglas Gordon exhibition at the time. Ami Barak came to the gallery the next day and they asked him. He said, "My former assistant is now the director of the art school in Geneva and it is a very good school, he should definitely go there." And I suddenly found myself in front of the selection committee in Geneva within a month. I was accepted and moved to Geneva.
The fact that I worked in a gallery before I studied art school, especially in a gallery like Dvir, made me progress incredibly fast in school. I have seen how artists work, how they use their materials. Because, you know, they gave me instructions for their own work like 'let it be so, because it does not fit this', bla bla … Nothing much was needed, I found what I wanted to do. I wanted to do three dimensional things and because of my age I did not have the chance to try many things. It seemed to me that, in any case, other things would come correspondingly. On the other hand, I already knew from the beginning how important a gallery is to an artist and how important it is in terms of economics and promotion. Since then, my dream was to work with Dvir or to work with great galleries. I dreamed of having an artist-gallery relationship that I saw at Dvir. But on the other hand, my works had to be of that quality to have that relationship. In other words, when you know it, your perception of error becomes very strong during the studies. That's why I always tell people around me, the reason I move so fast, whether you say career or visibility, is entirely due to my experience of Dvir. I still eat the bread of that experience and I think I will eat it for the rest of my life.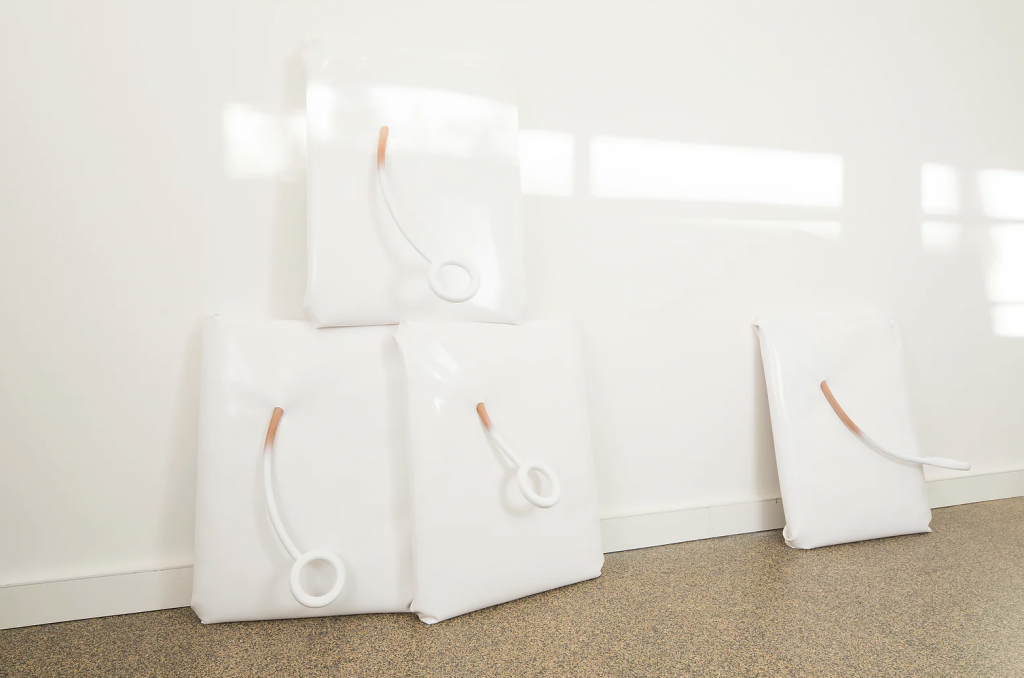 You said you used a technique you know while creating your first sculptures. I wonder about your relationship with sewing.
My relationship with sewing … My grandmother was not a friend to everyone, but she sewed all her children's clothes herself. Now I remember growing up with my grandmother. She had a shop, but the shop was not related to sewing. I remember, I learned it from my grandmother there. Actually, it's not about learning sewing completely, for example if they ask me to sew a suit, I can't do it, but I know sewing techniques. There are many things I learned from my childhood with my own eyes. I think I made them better by practicing myself.
You try different forms in the soft sculptures you make. In addition to those that look like upended dead animals, there are also studies away from known forms. I think your soft sculptures are close to the forms of Louise Bourgeois. What would you like to say about this determination?
Yes. This is definitely a very accurate determination. Because I actually told my own story at the time. Louis Bourgeois' state of violence and irritability in himself, that discharge thing, you know, the situation that you obsessively reflect the voice you can not silence into the material and turn the symbols of that screaming voice into a figure and take it out from the inside, I had exactly the same things. Louise Bourgeois was indeed my goddess at the time. But then I came to this point, 'I do not want to be Louise Bourgeois because I do not like to live in repetitive scenarios'. There was violence I inflicted on myself. I did not like this nervousness, this state of violence. Violence from the outside turns inwards if it can not find the right hole. But if you find the right hole, you can take it out and turn it into something beautiful and move it elsewhere. I did my best to achieve this during my three or four year Louise Bourgeois time. And I did not want that anger to spin around somewhere inside me like a washing machine. I wanted it to step out to the other doors finding a hole or breaking through me, undergoing transformation and metamorphosis in a way.
Something like that happened too, and I think it's culturally very important. I have been criticized too much. It would be wrong to say it is self-therapy, but if Louise Bourgeois, for example, was doing what she had done in the culture of today's Switzerland, she would be fired from school. It is a purely cultural perspective. After all, what we call Switzerland is a Calvinistic place that goes to extremes in humility, especially Geneva is the birthplace of Calvinism. It is a disgrace for people to talk about themselves and their problems. And I, the kid who had nervous breakdowns there, the person who tells people about our shared problems transforming his own nervous breakdowns into objects, sculptures and tells them how they reflected these breakdowns, had incredible conflicts with that culture. I could get no understanding from them. On the contrary, there was a silence, an approach like "ok, he is now throwing up here". One way and another, they gave me rough times that they tried to correct me. At that point, I got this, I'm not being corrected because they wanted it that way. I just felt like why do I want to tell people who are not listening to me? I can take care of it myself somehow; I can also handle it indirectly. I do not necessarily have to tell my own story; I do not necessarily have to introduce myself as the main character. At that point, a meaning like this emerges in my works; I see that correction period as a transition from personal symbolism to general symbolism. Actually, I still do the same things; I reflect them to the general based on myself.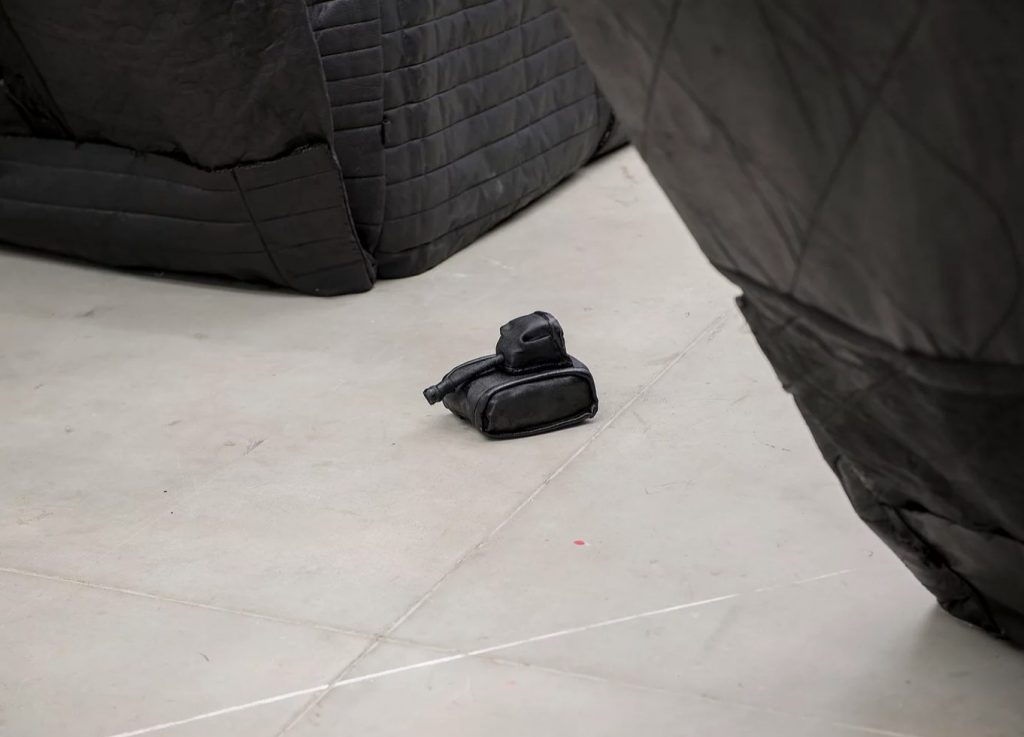 I think Carl Jung readings also contributed to this transition.
Very much. Jung is a very valuable name for me. Because of the nervousness and violence I have experienced since my childhood, the nervous breakdown and similar things, I started to question the cause and effect relationships from an early age. Why is this happening? What causes it? I developed a kind of automated mechanism to detect such things. That is why I am very sensitive to politics. What are the reasons? What are the common languages, symbols, words? What causes what and how these domino effects occur? When you look at the end of the event, there are common words, common gestures, and common tones at everywhere you go. When I got those common things, I realized that the problem I had was not only in me, but also in you, and that everyone had similar problems. My Jung readings were incredibly striking and informative in my understanding of this. Because maybe I can explain and externalize it all in an expressionist way because of my character, but not everyone may be like that. If I just focus on myself, I might not be able to create such beautiful butterfly effects for other people. I have come to the point that if I use a more general vocabulary, I can gather people softer on my side.
In addition to the works to transform tanks of various sizes into monochrome installations that appear to be covered with mattress faces, in the posters you designed for the List this year, you have also criticized Switzerland for positioning itself as a neutral country even though being an arms exporter. Antimilitarist attitude seems to be one of the elements that defines your position as an artist. What do you want to say on this topic?
Antimilitarism is a small topic under very large headlines. Actually, I'm not just an antimilitarist, I think I'm a person against violence and domination. It is not about only a single sale of weapons, it applies to corporate terrorism, it also applies to the forbidden culture, in other words, it applies to all forms of silencing. Bell Hooks mentions this in one of the chapters in his book All About Love, 'we teach children to lie from the moment they are born,' says Bell Hooks. For example, a child breaks something, we punish them for breaking it. And this child learns the tactic of lying at that point, knowing that if they break something again and tell it, they will be punished. We actually teach people to lie. That kid should actually be appreciated for being honest, right? But the system works in such a way that all truth is not always to be told. This is the lowdown of antimilitarism. Military weapons, violence against people, oppression and stereotyping, being shaped in a functional form in society, are just a very direct view of militarism. But this image has many different types, reflections and shadows. These forming actions start from an early age. Like I said, it starts with teaching children to lie.
If you look at my works, I think that over time, especially when I left the mattress and switched to other materials, I have moved on to a more subtle story and progressed with more conceptual expressions, this is of course my remark not everyone may see it that way. The political meanings of these transitional stages may not be directly visible in three-dimensional forms. While describing my works, I attach importance to doing this by adding political commentary. This is my personal preference. There are many artists, for example, who do not like to talk about their works, or not to participate in exhibitions or to give interviews. On the contrary, I think all of these are very valuable and important. It is not something I can do to present the work alone and leave the responsibility of it to people. I do as many guided tours as possible in my own exhibits. I try to interview or write about my own works as much as possible. Now, for example, my articles will be in the book Texts on Post-truth, Violence and Anger, which will be released simultaneously with my exhibition at Kunstmuseum Basel.
There is one issue I have always emphasized before: the social position of the artist. This topic has been linked to Jung for me. I tell it as much as possible to everyone; I also mentioned this in my previous interviews. My responsibility as an artist is to try to foresee things as much as possible that society has not been aware of. I interpret this responsibility as "make the unknown-unknown, partially known-unknown"[2]. When Jung talks about the four cognitive functions; about thinking, feeling, sensation and intuition, he says similar things. I think I have such a duty to make the unknown things perceptible, even if just a bit, and transfer them into the circle of society, carry them from the outside to the inside, by using these features. I assume that we, the artists, have antennas detecting as widely as possible. I don't think we are discovering anything; I only think there are thoughts in the air and we have a role of bringing the thoughts they miss to people by receiving them via our antennas. Therefore, talking fits with my character very well and I believe I can go faster by talking as much as possible.
In your exhibition Post-Truth, which opened at the Kunstmuseum Basel this month, you constantly emphasize the state of confusion and detachment from reality. How did you make these statements visible and sensible in your own sense of aesthetics?
I am trying to read as much as possible; trying to improve myself. When I read books on sociology, psychology, psychoanalysis and politics, I ask myself every day, 'what are we experiencing?', the question that I can not find the answer indeed. The era in which we live actually has a name: the era of post-truth. In general, people do not even know what post-truth is. No one around me knew until I introduced the phrase 'post-truth'. Everyone asked me "what does this mean?". We are going through a very strange period, I am not talking just about the pandemic, if we also consider the pre-pandemic period, still we are going through a very strange period. We are aware that we are fucking up the world, but no one knows what to do. The politicians are not able to give directions to the masses, the young people protest in the streets every week with the demand for change and no one responds in any way. Women get loud to demand equal treatment; LGBTI + people are also in the same situation and nothing has changed. The things we call the truth, the real, become insignificant, and it is called "post-truth" to proceed with momentary feelings rather than the truths. I actually want to say that I had a wish that people would learn that this crisis had a name. When the Kunstmuseum came with an exhibition idea, I said, on the day we met, that the name of the exhibition would be 'Post-Truth'. Even they did not also know what 'post-truth' meant. They have not yet heard this expression. Because this is a phrase that only people who are interested in politics know.
Actually, the purpose of the exhibition was to instill this word in people. I want to say very honestly that I do not believe that 'post-truth' can be told with a sculpture. This is a very big subject; this is not a subject you can keep hold of in your hand. Like a liquid, a subject that can slip through your fingers when you try to hold it in the palm of your hand. This is not a topic that can be framed on its own. I also said that I want to put the plastic aside a bit in this particular topic; I want to make a connection directly. I said that our main work must be the book that would be released along with the exhibition. There were some paragraphs I wrote until then, I also had my own comments, observations, and so on. I said I would make articles in broken English, as if I were speaking, by adding these paragraphs together.
You say 'post-truth' is a difficult subject to explain. How did you deal with this in your book?
As I said, 'post-truth' is a very broad subject and I had to narrow it down a bit. The way to do this is to include other subjects related to 'post-truth'. So, I chose violence and anger. I wanted to add the violence and anger that the 'post-truth' created or what made it happen, and that are posing each other. After all, the core of the exhibition, of course, the other things are not exactly revolving around it, but it would be this book. Let me also give a little introduction to the book: it is written in broken English and genderless, as I said. There are only my parents and another third person I am sure of as a gender pronoun. Except for these three, everyone mentioned as they/them. I only used she/her for my mother and he/his for my father. There is also a section on LGBTI+, there is a person I mentioned and gave as an example, and he/his was used to describe that person. I also wanted to impose this a little bit: except for non-binary people (which are not defined within the categories of men and women offered by the binary regime), no one usually forces themselves to contribute to a revolution by using they/them without any reason, "am I the person who is going to handle this?" they say, or they do not think about it, they do not know. I therefore regarded these pronouns as a somewhat confusing exercise; I wanted to make people think, "Who is talked about?". At the same time, you know, there is also a situation such as not understanding what is mentioned in 'post-truth', therefore, there is a somewhat experimental side using these preferences in that sense.
As for the works, there are two main videos. I must also say that I mostly enact the main character in my videos. Because I have such an image or sequence in my mind, that instead of calling an actor there and asking them for this performance, rather I prioritize finding a good cameraman saying that 'I can handle it'. But most of the videos I shot so far, except for the last two videos, were shooted by me with a fixed camera, etc. They were my own job. In one of these videos, the main character has a gun behind and is shouting 'Ay! Ay! Ay!' with the hands up.[3]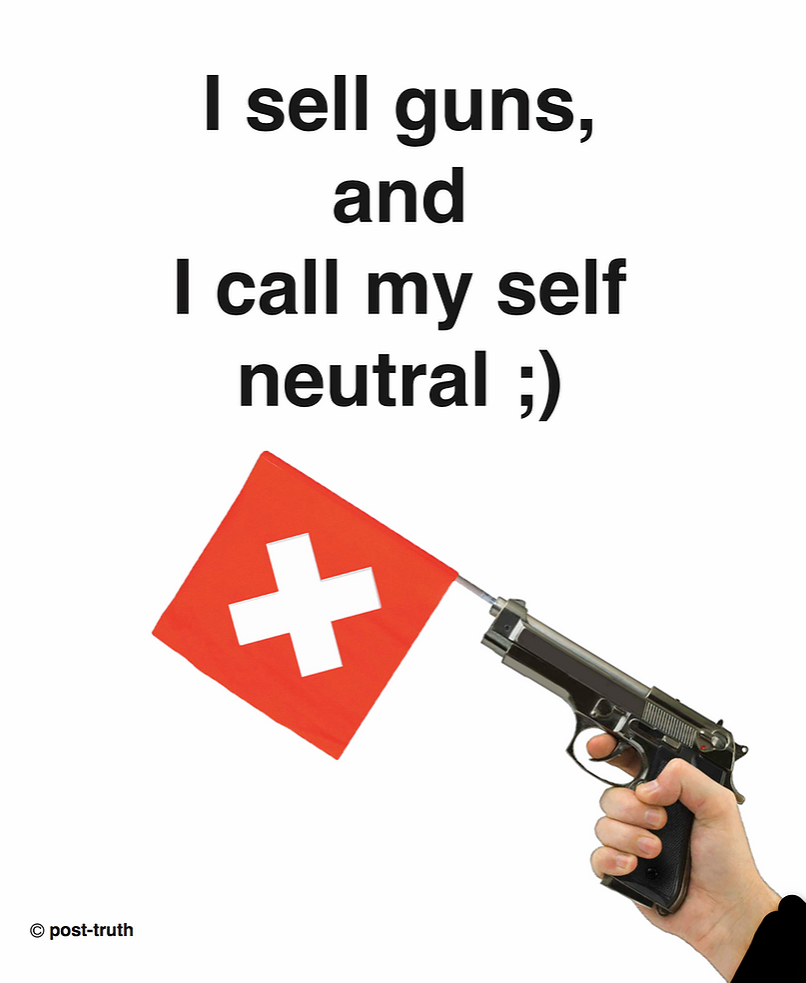 A work on display in the Basel Art Museum exhibition is also related to a work we will be seeing for the first time in Istanbul during the exhibition A Finger for an Eye in Poşe between 25 February and 26 March. Would you like to talk about your work in this exhibition?
In Poşe, the video Look will have only a voice and not an image. For the exhibition in Poşe, Alper first came up with a question "Can we not use a human figure?", and I also like such offers. I immediately accepted. I said there is such a video, but I'm in it as a figure. Meanwhile, this video will also be shown in the Red Cross Museum in Geneva. It is also on display in the Art Museum, but its silent version will be on display at the Red Cross Museum, with images only. The exhibition in Poşe and the exhibition in Geneva will echo each other. On the one side, there will be the images, Because there is a permanent collection exhibition in the Red Cross Museum, where works of art originating from all prisons, wars and human massacres in the world; Look will take place in a temporary exhibition at the museum. Besides, the theme of the exhibition in Poşe is very clear and obvious. The theme of the exhibition in Poşe and the character of the Red Cross Museum will complement each other in some way.
The choice to separate image and sound from each other was also present in your other video. The image and sound seems to work on different channels in your work La Parade de l'aveuglement (The Parade of Blindness). I think this is a method you mainly use to separate the two main elements of the video from each other.
Yes, I mean, I appreciate being in harmony with the character and the architecture of the place where the exhibition proposal comes from. It's something I appreciate dealing with that place, starting from that place and adding a light interpretation to my own work if it's an existing work. This was the case for the Look video at the Red Cross Museum; The Red Cross Museum is, after all, a very silent museum, a place where there is a lot of pain and drama. It would have been ridiculous if there was the sound of the Look video there. It's going to be a little silly then. I did not want something like this to happen, by the way, if you look at the silent state of this video, it becomes even more meaningful. Because there's a guy in the video, he just can not show the cameraman the place that he points out. He says "Look, look", and "shoot it!". The camera comes and goes, and shakes, but the cameraman just does not look there, somehow, does not turn the camera there. On top of that, I think the video gets stronger in terms of the image as the voice of the guy screaming and asking for attention is lowered. I say this for the Red Cross Museum.
If I return to the exhibition in Poşe, I do not know how they spoke to others, but Alper asked us to orient ourselves in different ways of working and to show things in a different way. I said okay, I will send it incompletely, then I will only send the audio. I do not know that place at all, I have never been. It's also a bit of a confidence issue. We met Alper during the opening of the exhibition in Paris. We could not talk much, it was a very formal greeting and introduction. Then it was interesting to know that I could not come to Istanbul for the exhibition. I like it when someone I almost don't know takes my works to a place I've never seen before. Because a pure sense of trust develops at that point. There is no other possibility, either you will trust and participate in the exhibition, or you will not trust and will not participate consequently. I really like the feeling of what and how it develops in such moments. I get really excited like when I went to my friends' house to stay at night there in my elementary school and high school years. Anyway, we agreed and trusted each other. I also wanted to make sure the piece would stand strong in that space, and I found it good to just expose the voice to keep it strong, because that would be something that would occupy the volume of the space. With that voice I will be there even though I am not able to be there. There will be three or four works in the exhibition in Poşe; I see it as a bit of a first encounter. Because this is my first exhibit in Turkey. Turkey is where I was born and grew up, and it is very important for me to exhibit there. Since I could not go, and in order to start the mutual interaction, I had something in my mind when choosing the works, like starting with very small plastic works and with a voice, as if saying "hey, I'm coming soon".
If I turn back to your real question about separating sound and image, it's just about the theme. If the theme allows it, I separate the image and sound, sometimes due to an adjustment mechanism and to create balance, and sometimes due to the defense mechanism, to prevent my own work from disappearing between other works. Sometimes it happens before you start doing the work, and sometimes after you have done the work.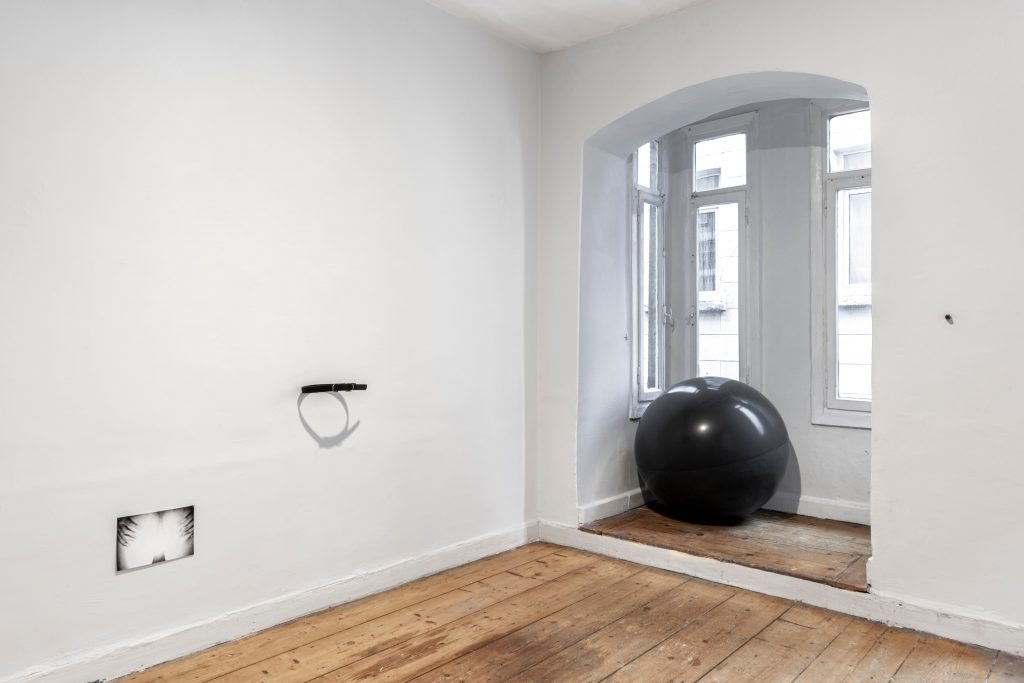 Exposing a dominant voice to an exhibition hall was something you did before at the Center Culturel Suisse in Paris. The sound of the video titled A&a echoes in the exhibition space.[4] I think it's something you prefer to determine the atmosphere of the exhibition space with sound.
Yes, the works Ay! Ay! Ay! and Look that I just mentioned, and also another sound work are already on display in the Post-Truth exhibition. These three are being heard everywhere in the museum. I like to bother people a bit when it comes to sound. Because the topic is heavy. Since the topic is heavy, if we are doing something then let's do it exactly, if it's heavy, let's put that heaviness forward, don't let it be too modest.
Your video works usually consist of repetitive sequences. While watching these sequences, I got the impression that the disturbing intensity of Pier Paolo Pasolini's films was distilled in your videos and determined the atmosphere. The wrestlers in your A&a work, where you present the physical imbalance of power in an almost grotesque way, and the driver in a trance mood, who is just steering the wheel of a stationary car thinking that they were driving it, seems to come out of from the Pasolini's world full of extremes. What would you like to say about this determination? How do you use the tools of cinematography when editing your series?
First, it made me incredibly happy that you mentioned Pasolini's name when you look at my works. Because I love Pasolini very much. When people watched those movies and said "oh my god, what is it?", I found them genius. "There's someone like me!" I thought. Pasolini is someone I consider as a role model.
If I ask which one of the Pasolini movies do you prefer the most?
I say salò. Let me tell you something, after your question I noticed, I probably have not watched Pasolini for the past four or five years. By the way, while studying politics, I focused on Italy and the Scandinavian countries. I compared them and my one year trip to Italy is related to it. I learned Italian culture and politics very well at the time. During that period, I really followed Italian cinema and Pasolini was my number one. After your question, I realized that I had not watched Pasolini for a long time. Thanks to you, I want to watch it again now.
What attracts you to Pasolini?
I can never distinguish between the artist and their work. Once I like something, I want to understand and learn about that person's life. Perhaps I like Pasolini's insistence on a very different perspective despite his life and the society in which he lived. Maybe I like that he took this stand. That's why I said there was someone interested in the same issues and similar aesthetics when I discovered Pasolini. Because I also insisted on saying that there was also such a thing and that it was possible against the people who did not accept me and my thoughts in any way, and I forced them without resorting to violence. You know the superior human Nietzsche is talking about; he says set an idol for you. While talking about the superior human, he says do the same things that your idol does, even if you do the same, it will not be the same, and over time you will start to build your own character. Pasolini has always been one of those superior humans to me. That was especially true for me in my early twenties.
When I think of my own performances, since I always knew the feeling in my head, I thought I would never be able to make an actor give the same feeling because they did not experience it. Maybe if I try it will be possible, but I have not tried it yet, to be honest. There is a preference that I have to show it myself because it is in my head, because I experienced it. If we look at the videos in general, one of the reasons I use black and white is, especially in repetitive videos, to focus on gestures and imitations. If there is color, we can look at the background, we can look at the setting, the concentration can change place in that image on the screen. But when it's black and white, one focuses entirely on the gestures and mimics there. I feel like I'm doing some sort of redirection when I make the videos in black and white. Because there's an insistence again, I'm talking about an extreme thing here, I'm talking about only one thing, I emphasize it over and over again and take the colors out of the eyes of the viewers so that they can't escape from this.
Since you usually use black and white in your sculptures too, it seems consistent to create your videos with black and white images.
By the way, I really love colors. In my daily life and when I look at the works of others, I am a person who says that there is no color in this and criticizes it. Maybe because the contrast is very important in the topics I want to discuss; I also like to play with dimensions. To create a contrast, I put a large tank next to the baby tank, for instance. Also for the other things. For example, there are balloons in the Post-Truth exhibition. I like such exaggerations as playing with the dimensions somehow, getting smaller of the big, the small's transformation into big, that baby tank will grow into a big tank one day. Actually, if I add colors there when playing with the dimensions, it would have deviated from showing the dimension, which is my priority, and somehow, I would have made an invitation to a world like Alice in Wonderland. I like exaggerations in artworks. Those black and white actually come from my love of exaggerations. Because it tells me about extremism. It tells of going to the extreme point. If it is needed to say something positive about this, maybe with this black and white, I give people one hundred percent freedom. Let them paint the color they want in their minds. After all, I do not offer a color to the audience, so I give the audience an option that they will choose to paint it in the color they want there. At that point, I open up a space for the colors produced by the viewer's imagination.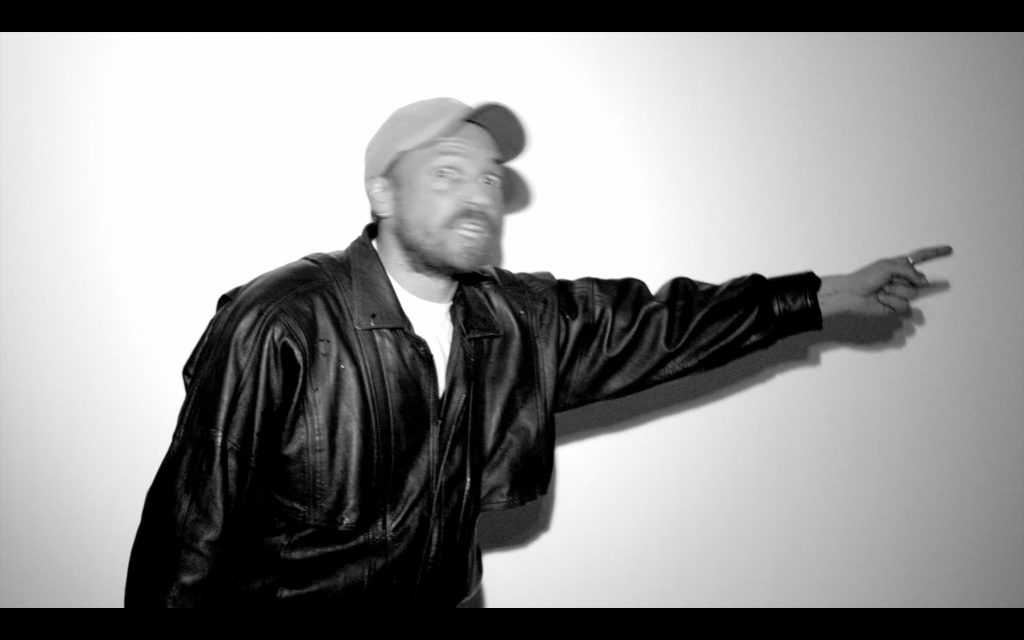 You mentioned that you use the possibilities of performance in your work. We can see these performances in your videos. Let's talk a little bit about your relationship with the performance?
I don't like to perform very much. I mean I don't like to perform live in front of an audience. Have I not? Yes, I have. But I don't like it very much. Rather, I like to record the performance and let it repeat. Because I don't know why, but maybe it is something personal, I am sensitive to repetitive scenarios. I think there are always recurring scenarios in life. I'm saying this personally, completely out of art. When you examine people's lives, everyone's life, including you and me, with a psychological analysis, you can see these recurring behavior patterns. Maybe people change, environments change, circumstances change, but the way of behaving always remains the same. Because there is an issue that needs to be solved, a problem. That person needs to figure out that behavior to go to the next phase in life and reach the next phase. I think most people have a problem such as getting stuck in certain behaviors. I am also included in that. Repetitive scenarios were something I observed a lot in myself until the end of my twenties. There are still some behaviour patterns that I could not overcome. If you look at it from the outside, it becomes easier to see what is repeating. When it's easier to see what's repeating, then you start to see how you can solve it. So, the purpose of questioning repetition in my videos and telling the story that I try to highlight again and again is to help people notice the repetition; like I said before, let them question what causes that repetition, and make them look from the outside. Maybe I'm taking an invisible mission to help them look at the anger there, the closure there, the depression, the violence in their own lives from the outside. I try to open a mystical dimension with those repetitions.
In your Doll House work we look at your impressive performance, where you make contact with a table almost as if you want to integrate with it and then break the same table with your hammer. Then, in your another video 0 (Hanged Man&Whistles) we see you hanging from the ceiling. Would you like to talk about the links between these performances and other works?
The Doll House is watched on a very small television. As you know, a dollhouse is a kind of toy that children play with. In that little thing, that miniature toy, the person's conversation with that little table. There is no sound in the video. That man goes to that table in that house, talks to it, explains his problem calmly, talks and talks again, but there's no reaction, then he gets angry, opens the drawer, and to open the drawer is an important symbolic gesture for me. It's like opening up your inside and talking to it. It is about something like "hey, I am talking to you, listen to me, I pour myself out on you, I want you to respond,". His stomping on top of the other and saying 'listen to me' with his feet kicking, his talking, and his insistence on talking, trying to say 'understand me, understand me!' Of course he doesn't actually say 'understand me' there, because we can't hear what he says. The point is that he is really trying to communicate. That nervousness and anger, because there is no response, he can't get any reaction. Eventually the boundary is crossed and he breaks the thing he expects love from, response from. He does not know that he actually harmed himself also, while he was breaking it, and then they are falling down together. And like I said, this video is on a very small TV which is on the floor. I also do some kind of physical manipulation for the audience to watch the video because it is necessary to kneel on the ground to watch it. That gesture is very important, you have to kneel and bend down to see everything. There is something like inviting you to look below what is going on, to look from another dimension, to look below a room to watch the TV that you will never look from that level.
And the other performance comes from tarot cards. The Hanging Man in the tarot cards symbolizes the complete disconnection from the physical world and the interest in the afterdeath. There is a kind of escape to the other side, but even if you try to escape, you can not escape because you are not dead. You're still alive. You want to go, but you can not go, and you will eventually withdraw and somehow wait for a metamorphosis. Behind it there are two whistle-sounds, one normal whistle, I integrate it imagining the police whistles, and it is still a whistle used by the police. It is also a whistle used in trains as the journey begins. There's another dog whistle there, too. The human ear can hear it up to a certain age, usually up to twenty-seven or thirty. Some people lose that sensitivity much earlier. Dog whistle has a kind of frequency that it even makes dogs cringe. It is very annoying; a whistle used by police around the world to disperse young people as they protest. It is also used after certain hours in nursing centers for elderly people. It is thus a kind of tool for social manipulation. I wanted to show that person's unresponsiveness to social manipulation. So, that performance is something like saying "do whatever you want, I'm done", for me.
I think light boxes consisting of 0 and 1 numbers corresponding to bits in computer language are also powerful works. It is impossible to consider the post-truth phenomenon, which is the theme of the exhibition in Kunstmuseum Basel, independent of the communication revolution we have experienced in the last quarter century. Do you want to talk about your work in this context?
In the very big picture, this and all the works you mentioned are, yes, connected to each other. But when it comes to the smaller pictures, they are the works that differ from each other. the light-box 000 and the light-box 111; one is circular and the other is square-shaped. You know, there were some boxes at the entrances of old theater halls that they put some numbers, letters on to show the date and time of the play. It was my inspiration. And you can also look behind those light boxes. When you look behind, you can see how those light boxes are made. There is completely a theatrical atmosphere in both works. You can see the works on the front side, and at the back there is actually no mystery and you can see how it is made.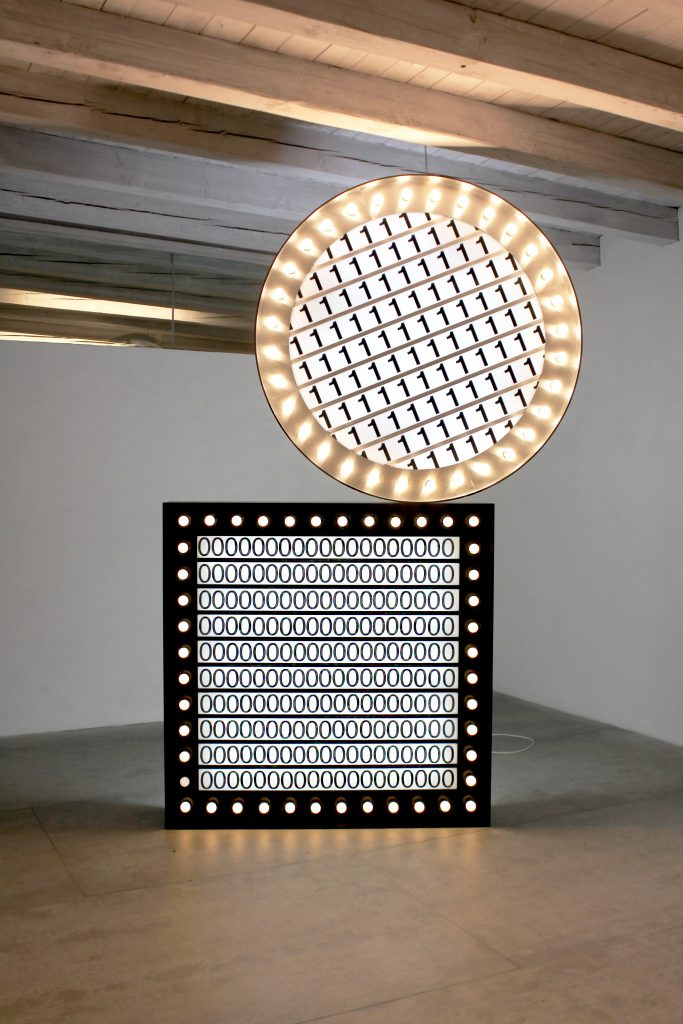 Latex also looks like a material you prefer to use in your works. Why do you use latex?
Actually, when people come to my exhibits, I have an intention to manipulate them a little bit. I mean we are in such a consumerism that it is a very short-time activity to see the works, to watch the videos, and you know, people just look and pass, and that's what I want to prevent. When I convey things with art, I always have an intention such as seducing and hooking people in a way. There's a bit of that behind the repetition in those videos. The purpose of my use of latex is to use shiny materials, to bring them closer, to make people look closer and look at themselves. Because, after all, we live in an era where narcissism is at its peak, and in order for the people in consumption to listen to what you want to tell a little more, it is necessary to create a temporary magic, to create mysticism that somehow appeals to them. That's why I like the luster of latex and the reflections it creates. In fact, this latex thing started with a material I found on the street; with rolls I found in the trash bin of a museum. I find a lot of my material from garbage. Or sometimes museums send me photos of the material that needs to be thrown away after the completed exhibits, just in case I want it. This is how this latex story started. First, I found big rolls of, over a hundred yards of white one. After I started playing with white, I switched to black.
Now, for example, in my current exhibition, I made balloons out of natural rubber, not latex. Big balloons. It adds playfulness, invites people. I also try to pay attention to material combinations. For example, the black forms on those big wooden lines. There, the plastic black stuff actually looks organic, it all looks the same, but when you get closer, you see that they are very different from each other. It looks like the formation of a bee honeycomb, but actually the material is completely fake, by no means natural. But apart from that, the systematic tracks are all natural wood. I'm trying to do something like meaning change and displacement. Because the meaning change and the displacement of the material creates a question in people's subconscious and gets them closer to the work. As they get closer, they think consciously or unconsciously of it among those questions. Making people think is one of my biggest goals. Whatever the work is, my biggest goal is to make people think. I think we can never answer a question properly. I don't think I can teach anything.
I always have a fundamental desire to make people think one way or another. Because I think we're in the period of escape. Speaking of the period, this is not a temporary period. I think the 'post-truth' period is such a period as well. People know that they are in a very strange situation, but they do not want to make sense out of it, they do not want to hear bad news … For example, everyone around me watches Netflix. They don't read books or don't want to watch the news. Everyone avoids the truths somehow, and what we call truth is a different topic, is the news true? Most of it is a kind of manipulation. Selected news. For example, we know everything about America, but it seems we do not know what is happening in Uzbekistan. Climate crisis? People also do not want to hear it, the consumption of plastic? They also do not want to hear it, there are human rights, justice, economy, pandemic, education, money, and crap, they also do not want to hear them. Everyone is deeply occupied with positive thinking like, life is beautiful, oh la la, everything will be beautiful. You know, there is something like escaping from collective responsibility, from your own responsibilities, I think it is actually escaping from your thoughts. And I have a problem with this kind of people, like making them ask questions to themselves. And I really sit down and think about it to do that. What kind of material can I use? Since I like the artworks I see this in, I also force myself to do so. I can say nothing to an artist, everyone is free to do what they want, but I immediately notice the works of art that are made without thinking about the audience. I think there is a very serious distinction between the works that the artist presented by focusing entirely on themselves, focusing on their own quest, and the works that the artist makes taking into account the people who will see them. Maybe it's not a distinction that someone from the outside can notice, maybe mine is rather a professional distortion. The more you are interested in such things like the material you handle, the light falls on the work, the wall it is presented, the color and size, and so on, the more you can see the difference immediately in all the works you encounter. Does the artist think about people or do they focus on themselves? Honestly, I'm very seriously dealing with the issue of how this work will communicate with people, and I do not usually follow artists who do not care about it.
In the interview you did with Merve Akar Akgün, that helped me get to know your works[5], you talked about the art environment in which you live in Switzerland. What has changed in your life in Switzerland since the work you named Welcome! in which you told your immigration story while sailing alone on a motorboat?
Much has changed. Actually, the video is not exactly my story, it is a message given to people coming out of my story. You know, it was like an Olympic torch for me, the event of handing over the torch from hand to hand. Let me underline that I made that work also for the Red Cross Museum five years ago. There was an invitation at the Red Cross Museum, and it was a work I made for that invitation. Again, it was a work made within the thematic framework of the museum. In fact, with the question you asked, such a beautiful thing happened at the moment; the transition from the Welcome video to the Look video describes the transformation in my artwork very well: from someone who initially tells their own story, from someone who tries to communicate with people by telling their own story, to someone who completely focus on common symbols and find something from themselves in that common symbols. Aside from my own story, it has now changed in everyone's story. With this question, we took a picture of the past five years.